Mountain Jews Winter Synagogue
Email: thekazzimli@gmail.com
On the left bank of the Gudialchay river, immediately across from Guba lies Girmizi Gesebe, or Red Village. On a clear day some of Azerbaijan's highest mountains, snow-capped and massive, are visible if you look up river. The most well-known location of Azerbaijan's rich Jewish heritage, Girmizi Gesebe is located two and a half hours north of Baku in Guba, a region famed for its cultural diversity. Girmizi Gesebe serves as a living testament to Azerbaijan's ties to the Jewish people.
Fatali Khan ruled (1758-1789) the Guba region during a time of fragmentation in the broader region, where regional powers vied for influence through various rulers, each with their own khanate. The Guba region had already been inhabited by Jews for perhaps as many as 12 centuries prior, yet they had been scattered throughout numerous smaller mountain villages. Eventually, some came down to the lowlands on the banks of the Gudialchay, a migration still told by some members of the ancient ethnic groups that continue to reside in the highlands today.
The story of this migration is also told by the Jews themselves and captured in the soon-to-be opened Museum of Mountain Jews, located in a restored synagogue inside Girmizi Gesebe. Seeing an opportunity to utilise the various skills and trade influence that local Jewish people had, Fatali Khan invited both the local Jews and a wave of Jewish emigres from the Gilan region of modern-day Iran to receive equal status and protection by founding a Jewish town directly across the Gudialchay river from his capital. It remains so today.
The town itself is also a living testament to Jewish peoplehood and its unique identity as it has formed in Azerbaijan over the centuries. Originally divided into quarters that reflected the different origins of its inhabitants, with names such as Gilaki, Gulgati, and Gusari, the town now identifies as a single cohesive group known by the title given to them by Russian Empire demographic census takers − the Mountain Jews
For the trained eye there is a fascinating look back through time on virtually every corner. The most notable landmarks are Girmizi Gesebe's synagogues, four of which are now completely restored due to the generosity of various locals who have had the fortune to give back abun - dantly to their home community. The most impressive is the Six-Domed Synagogue, an impressively large structure built in the classic red-brick late 19th-century archi - tecture of the region.
Open to visitors during the week with permission by an attendant who is almost always present, the synagogue is still the centre for religious life during the summer months. On a Friday night, a cool moun - tain breeze accompanies those attending Sabbath prayers, their shoes removed as is common local custom throughout Azerbaijan yet novel to much of mod - ern Jewish practice. The nearby Gilaki Synagogue, used in winter months, is smaller and thus easier to heat. Its re - splendent array of carpets, its sky and cloud-painted central dome, and thick, warm walls, enhance the welcoming and yet mystical ambience of this house of prayer.
Many who have left the community to seek their fortunes elsewhere have re-invested heavily. The streets are now lined with stately mansions. Yet despite the historical influences, such as forced assimilation under Soviet rule and the pressures of modernisation, its immac - ulately clean streets still ring with the local Judeo-Persian language, Juhuri. Above the town sit three large cemeter - ies, with Hebrew and Cyrillic-inscribed tombstones that reflect a variety of his - torical time periods, cultural influences, and traditions.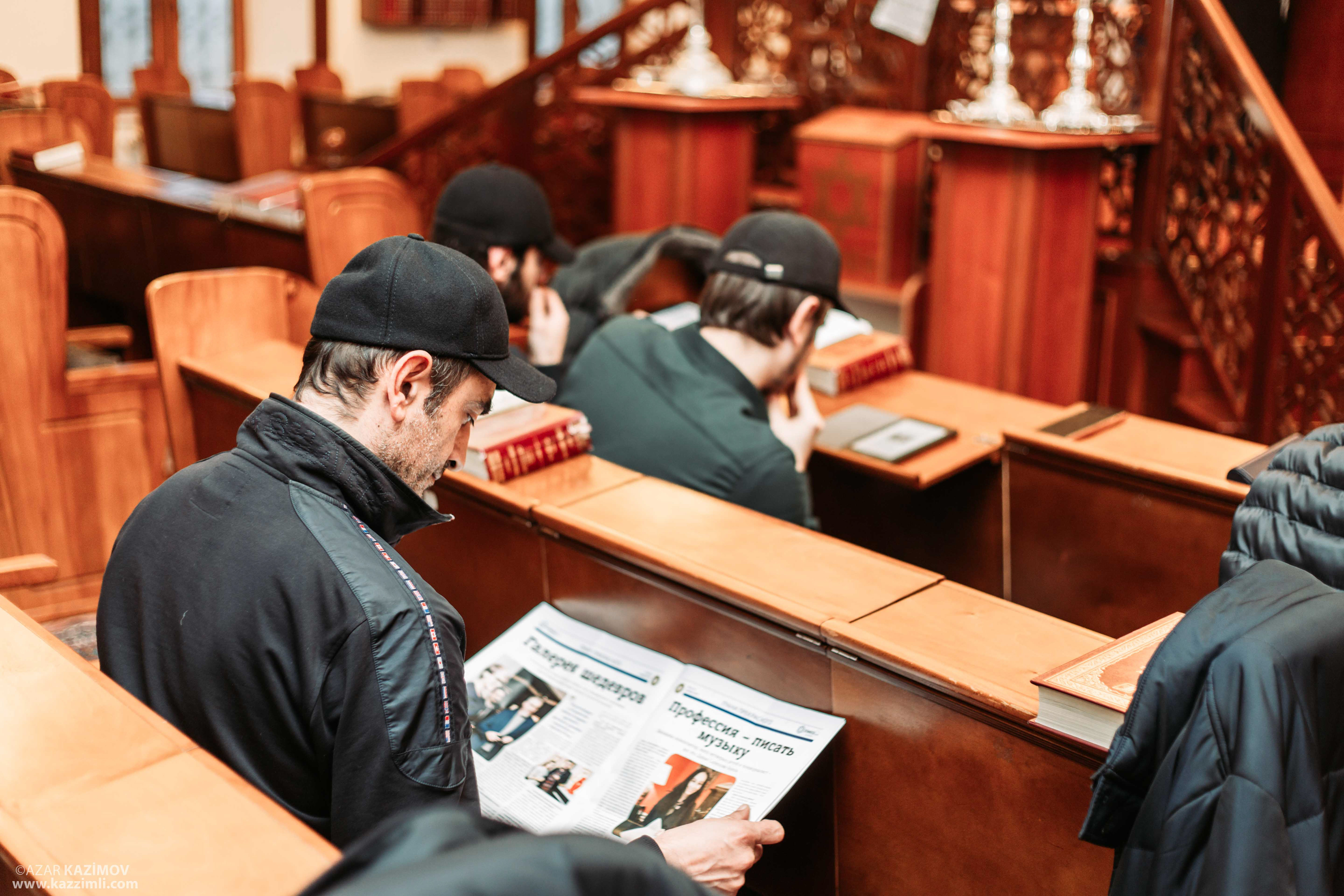 With recent developments that support tourism, Girmizi Gesebe is an increasing - ly popular destination and justifiably so. The Museum of Mountain Jews will be opening shortly, providing a world-class museum experience and expert guid - ing opportunities from local residents themselves in a variety of languages. A kosher restaurant has recently opened, providing an experience of local-style cuisine to travellers of all backgrounds. For anyone visiting the Guba region, this is a unique must-see stop that can be combined with day excursions through - out the region allowing visitors to truly appreciate Azerbaijan's rich cultural fab - ric and history of co-existence between many religious and cultural identities.
ALL OF MY WORKS ARE SUBJECT TO COPYRIGHT LAWS. 
DO NOT USE WITHOUT WRITTEN CONSENT CONTACT:
thekazzimli@gmail.com